It's super easy, just click on Book Now and fill in the form.  Someone will usually get back to you within 24 hrs to discuss your preferred dates and cabin.
IMPORTANT: During high season (i.e. Summer) we only accept 7 day rentals.  In order to check availability you need to click on the cabin you want to book and view the calendar.  If you have problems just contact us and we can let you know if there is availability.
Each cabin is like a mini house in a way.  They come with a bathroom/shower, kitchen (fridge, stove top, sink, cutlery, coffee machine, pots/pans), bedrooms and most have a loft as well.  Every cabin sleeps 6-8 people (very rare since a lot of places post cheaper prices but limit the guests to 2-4). 
Every cabin also has its own private fire pit and BBQ.  The cabins are all spread out around a private lake and you get a complimentary row boat during the summer.  On top of all that, you get access to our wood burning hot tubs and sauna!   We believe the value you get at Cozy Cabins is better than most places and the majority of our guests agree!
Don't forget we do NOT charge a cleaning fee as long as the cabin is left fairly clean/tidy.  Even though we do a deep cleaning after every rental, we still don't charge for it.  A lot of places charge $150 for cleaning fees.  Plus, on a resort most places will charge for a row boat rental, or access to a "spa" experience.  We want your price to include the entire experience!
Yes!  We are very proud of our drinking water.  The water you are drinking comes from a well located right next to the lake which is fed by nature spring water.  In the "pump shed" we have a full water filtration system so that you can enjoy clean drinking water that's free from harsh chemicals!
Yes, but it is catch and release only.  We saw one guest catch a 4 pound trout right from the lake.  Now, chances are you are going to catch a lot smaller trout but we've seen many children have plenty of success.  If the fish you catch isn't release quickly please don't just let it die (take it back to eat).
All guests should bring their own bed linens, pillows and towels.  Don't forget to bring slippers, swim suits, hiking shoes, snowshoes/skates/sleds (for winter).  Bring warm clothes because the weather can change very quickly.
Check-in is usually 4 pm but on off-season you can request an earlier check-in and it will depend on how busy we are.  Check-out is usually 10 am and during off-season you can request a later check-out.
There are plenty of activities to keep you and your family busy while staying here such as swimming, fishing, canoeing, hiking, baseball in meadow, building sand castles, snowshoeing, sledding, skating or just relaxing in the wood burning hot tub or sauna.
Because our cabins aren't rented out back to back all winter we have to winterize them and de-winterize them in between guests.  This is a very tedious and time consuming process and takes quite a bit of antifreeze as well.  Plus, we have to heat the cabins up 48 hrs prior and use heat lamps to make sure water lines don't freeze.  So we charge a flat fee of $120 per stay to off-set the time and cost associated with running the cabins during the cold.  You can look at it another way... we don't charge a cleaning fee for the cabins when most places on Airbnb do!
Yes we are open in the winter!  You can book online to see availability.  If you book a cabin during the winter and it drops below -15 then we will issue you a refund or a credit for another time as we do not operate below -15.  We will try to let you know 5-7 days prior to your stay if it is too cold.
Yes, we offer wood for you to purchase for both campfires and your wood burning stove.  You can also bring your own wood if you want.
While we are open to the idea of you booking all the cabins we are very strict about no partying.  So you will need to get approval from us first by talking to us on the phone and explaining the type of group you'd like to have.  Also, there will be a damage deposit taken for large groups just to protect us and of course if all rules are followed we will happily refund the deposit at the end of the stay.
We are located 20 minutes from Lumby, BC and right next to Echo Lake.  We are about 1.2 hrs from the Kelowna international airport.
You need to fill out our form on the contact us page and we will get back to you.  Or you can visit our wedding page or corporate retreat page and fill out the form there.
Cozy Cabins is meant for families to come disconnect from technology/gadgets and reconnect with each other in nature.  A huge part of wellbeing is creating deeper connections with your loved ones.  But, we also want to provide other ways to relieve stress, remove toxins, and create peace.  So we've added a couple wood burning hot tubs, a wood burning sauna and in the future we will be adding more things as well.
A day pass gives you the ability to enjoy our property including the outdoor spa experience without having to book a cabin.  It is a new initiative we are trying out and will only be available certain days in the off-season.
Every cabin is unique so it is important you choose the right when for your family.  Some of them have lofts with steep stairs, some of them are right next to the lake, some allow pets.  So go through our cabins on the website to learn which one is best for you.  Don't worry that Cougar cabin has a private hot tub, we now have wood burning hot tubs available for everyone to use.
We are connected to BC Hydro but we just invested a lot of money into a solar system for both powering The Ark and most of the cabins.  We love the fact that we are a nature resort that is helping by producing our own energy from the sun.
Yes, it is called The Ark and you'll find it under our cabin list.  It is the only place that does charge a cleaning fee simply because of how large it is and how long it takes to clean.
When you book during high season your deposit is non-refundable.  When you book off-season your deposit is refundable less 30 days.
Have more questions?
Reach Out!
Send us a message through our contact form, email us or call if you have any questions or concerns that are not addressed here!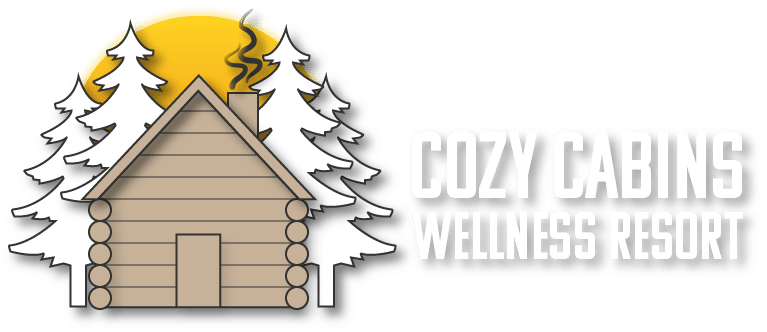 About Cozy Cabins
Cozy Cabins Wellness Resort is private, family-centric vacation destination located on 40 acres with it's own private lake and surrounded by stunning wilderness.
With 7 rustic and well-equipped cabins spread throughout the property, this is the ultimate place to bring your family to tune in to true relaxation.