Cozy Cabins Wellness Resort is located 1.2 hrs from the Kelowna International Airport.  You would never believe how in the "middle of nature" you feel within such a close distance to Kelowna.  We have 7 rustic but fully equipped cabins spread out on 40 acres all overlooking a private lake.  Each cabin is unique and comes with a kitchen, bathroom, bedrooms, BBQ, deck, and fire pit.
Normally you'd have to travel quite far to get the feeling of being surrounded completely by nature... but the best part is how close Cozy Cabins is to Kelowna and Vernon.
Take a look at our cabins page here: www.CozyCabins.ca/cabins
The Cougar cabin comes with its own private hot tub right on the deck.  But, we also have two wood burning hot tubs and a wood burning sauna right on the lake for all the other cabins to use.
As you can see from our cabins page each cabin is so unique.  Most of them have a wood burning stove (Cougar has a pellet stove) which makes it so incredibly cozy and inviting.  Again, every cabin comes with a bathroom and kitchen whereas most rustic cabins don't have such amenities.  So you are getting the best of both worlds.
The outdoor spa experience is included with each cabin rental.  Can you imagine staying in one of your very own, rustic cabins and then soaking in a hot tub filled with natural spring water from the property to end with sitting in a wood burning sauna with steam while looking out over the lake?
Sound too good to be true?
Well, considering we are only 1.2 hrs from Kelowna airport it is almost too good to be true... what are you waiting for?  Book a cabin and come check us out!
Okanagan Cabins for Rent On Private Lake Are you looking for a serene getaway amidst nature, where you can escape from the hustle and bustle of city life and immerse yourself in the peaceful wilderness? Then the Okanagan region of British Columbia, Canada, is the perfect destination for you. Cozy Cabins Wellness Resort is a […]
Read More

→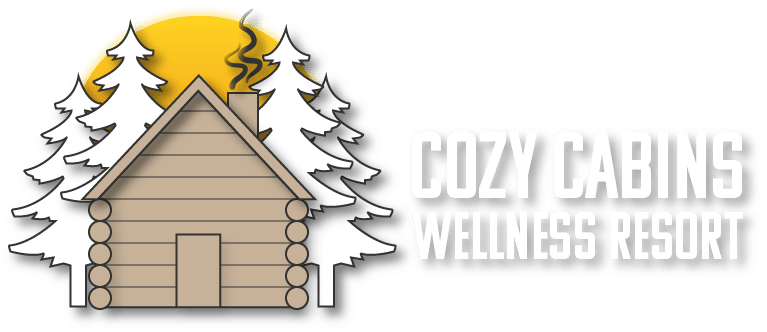 About Cozy Cabins
Cozy Cabins Wellness Resort is private, family-centric vacation destination located on 40 acres with it's own private lake and surrounded by stunning wilderness.
With 7 rustic and well-equipped cabins spread throughout the property, this is the ultimate place to bring your family to tune in to true relaxation.